Spice Park - Jodhpur, Rajasthan
Last updated on 19-01-2015, 13:32
The Government of Rajasthan has allotted land to an extend of 60 acres in the Rampura Bhatia Village of Ozian Tehsil at free of cost for establishing Spices Park. The Spices Park at Jodhpur, Rajasthan is aimed at setting up of infrastructure and processing facilities for Seed Spices like Coriander and Fenugreek. Other seed spices like cumin and fennel can also be processed in this park.
(A view of Spices Park, Jodhpur)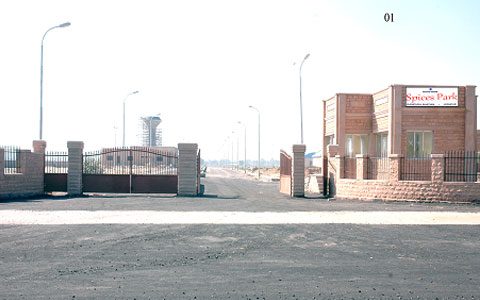 Basic Facilities offered
Land area 60 acres
Network of wide Roads
Uninterrupted Power & Water System
Waste Disposal System
Common Water treatment plant
Drainage Network
Fire Fighting System
Weighing Bridge
Warehousing facility
Restaurant
The details of the major facilities established in the Park is given below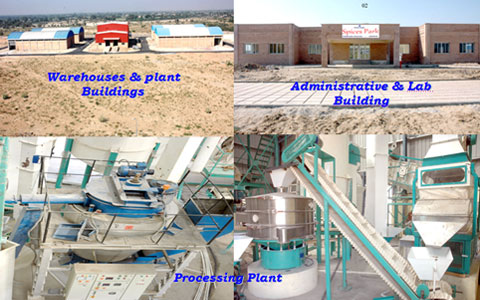 Administrative Block: Board has set up an administrative building with an area 1000 square meter. The administrative Office of the park and the Zonal Office of the Board will function from this block.
Power Station: Established a power station with 11 KVA transformer and 250 KVA D.G. sets. In addition to this 150 KWA D.G set is being established exclusively for E-auction center. All the street light established in the park will be under the Solar Power system.
Fire Fighting System: A fire fighting systems is being set up at the Spice Park, Jodhpur for ensuring safety.
Warehousing Facilities: 6 numbers of Warehouses are being established for storing of both the raw materials and finished products. The details of the warehousing facilities available are as follows

Raw Material warehouse : Two raw material Warehouse established exclusively for Coriander having area of 700 sq. meters each
Raw Material Warehouse: Two raw material Warehouse for Seed Spices other than coriander having area of 800 sq. meters each.
Finished Warehouse: Two finished product Warehouse for Seed Spices Other than Coriander having an area of 800. Sq. Meters each

Canteen: A canteen facility established in the park for the benefit of the farmers, processors and exporters
Processing facilities for Seed Spices: A full line processing facility for Seed Spices is established in the Park. The capacity of the processing plant installed is of 2 Tons per hour. The facilities included are Pre-cleaning, Grading, Color sorting, Grinding and Packing etc. The packing facility included in the processing line provide both bulk and consumer pack of 25 gm, 50gm & 100 gm. Major Machinery involved in the process are Precision Air Classifier, Screen Grader, Gravity Separator, Pressure and Vacuum Destoner, Debeader, Metal detector, Color Sorter, Roaster, Grinding System, Packing Machines etc
Sterilization Unit : Board established a sterilization facility with a capacity of 250 Kg per hour in batch process.
Water Treatment Plant: In order to ensure uninterrupted supply of water in the Park, an overhead tank of capacity two lakhs litter is established. Moreover, a water treatment plant will be established to ensure safe drinking water.
Other facilities

Fully computerized Pit Type Weighbridge of 50 T capacity.
Fork Lift for transportation of materials from building to building and in the inside of the Park
Pallet Truck for transportation of materials within the Warehouse.

Public Private participation: This is the first Spices Park established by the Board with Public Private Participation. Board had leased out 24 acres of land in the Park to 17 private entrepreneurs for developing their own value addition plants in the Park. More exporters are willing to participate in the project by establishing their own units which require additional land. The Board had already submitted a proposal for allotting additional land to the Board. The details of the exporters who had taken land at Spices park along with the layout of the plots is given below.
Click here to download Plot Layout
Sl No
Address
Plot Allotted
Area allotted (acres)

1.

Mr. Pukhraj Gehlot
M/s. Pukhraj Rooparam Gehlot
Shop No. 20, New Fruit Mandi
Bhadwasiya
Jodhpur, Rajasthan
Ph: 0291 2544575, 09829023575

1

1.5

2.

Mr. Vinod Rathi
M/s. Vinod Trading Company
LI 42, Mandore Mandi, L-Block
Jodhpur, Rajasthan
Pin: 342 007
Ph: 0291-2572309, 09414562767

2

1

3.

Dr. Kumar Rajiv
M/s. Kasa Infra Ltd
M-4, Kasa Haveli
Maharaja Hari Singh Nagar
Rajasthan, 342001
Ph: 0291-2430868, 09829020808

4,5 & 6

3.05

4.

Mr. Shiv Ram Parihar
M/s. Shivam Enterprises
Mansagar
Balarwa, Osian
Jodhpur, Rajasthan
Pin: 342 306
Ph: 09829948123

7

1

5.

Mr. Hariram Gehlot
M/s. Jagshanti Food Products
E-27(A), Jagshanti
M.I.A. -2nd Phase
Jodhpur, Rajasthan
Pin: 342 005
Ph: 02931281636, 09928027036

8, 9, 12 & 13

4

6.

Mr. Gulshan John
M/s. Harmony Spices Pvt. Ltd
12-597-8, Jawahar Road, Koovapadam Ernakulam, Pin: 682 002
Ph: 0484-2223286, 09847044595

10 & 11

2

7.

Mr. Hanuman Singh
M/s. Jay Shree Trading Co
Fine Computer Station Road
Tinwari, Osian
Jodhpur
Rajasthan-342001
Ph: 09799847951

14

0.75

8.

Mr. Chawanda Ram Parihar
M/s. Chamunda Enterprises
Chawandsagar,
V.P. Balarwa, Osian Tehsil
Jodhpur, Rajasthan
Pin: 342306
e-mail : p.parihar@sbi.co.in

15

1

9.

Mr. Kumbharam Parihar
M/s. Shri. Mangilal Parihar Krishi Farm
Balarwa Post, Osian Tehsil
Jodhpur, Rajasthan
Pin: 342306
Ph: 09829258465

16

1

10.

Mr. Girish Soni
M/s. Shree India Sino Gums Pvt Ltd
F-37, Marudhar Industrial Area,
Basni Phase I
Jodhpur, Rajasthan
Pin: 342005
Ph: 0291-2748701

17

1

11.

Mr. Dilip Soni
M/s. Shree Ram Gum Chemicals Ltd
C-79, MIA, Basni II
Jodhpur, Rajasthan
Pin: 342005
Ph: 0291-2740240

18

1

12.

Mr. Kishor Singh Parihar
M/s. Organo Natural Herbs N Spices
17E-54, Nr. Meera Park,
Chopasani Housing Board,
Jodhpur, Rajasthan - 342008
Ph: 0291-2701754, 09461088449

19

1

13.

Mr. Shyam Sunder Jaju
M/s. Shyam Trading Company
H-II/18, Mukhya Mandi
Mandore Road
Jodhpur, Rajasthan
Pin: 342007
Ph: 0291-2570448, 09828527448

20 & 21

2

14.

Mr. R. K. Sankhla
M/s. Jai Laxmi Agro Tech
Sankhla Bima Sewa Kendra
Mahamandir
Jodhpur, Rajasthan - 342001
Ph: 09214326317

22

1.6

15.

Mr.Jhumarlal Sankhla
M/s. Prem Sagar Industries
E-147,RIICO Industrial area
Mandore Nine Mile Nagour Road
Jodhpur,Rajasthan-342001
Ph:9829760199

26

0.97

16

M/s. Sushila Jhanwar
M/s.Shree Narayanaswamy Enterprises
W-3,Mandore Mandi
Jodhpur
Rajasthan-342006
Ph:0291-5111571
Email:jhanwaromprakash@yahoo.com

29

0.97

17

Ms. Sangeeta Solanki
M/s. Surbhi Products
G-12,Phase Ist RAICO Industrial area,Boranada,Jodhpur
Rajasthan-342012
Ph:02931-281132
Email:surbhiproducets@yahoo.com

3

1

18

Ms. LMJ International Limited
A-11,Intustrial Esate, Opposite Udhyog Bhawan
R.F.C. New Power House Road
Jodhpur - 342003, Rajasthan
Ph:+91-291-2630475; Fax - 291-2630473


25

0.91
Current Status
The Park was inaugurated on 07.04.2012. The Board has charter the trial production of the processing unit and completed the process for leasing the facility for its commercial operations.